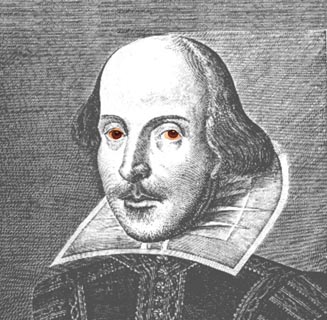 ** MOUSEOVER THE IMAGE ** to see
The Man Behind the Shakespeare Mask
Marlowe is the greatest discoverer, the most daring pioneer, in all our poetic literature. Before him there was no genuine English blank verse or tragedy. After his arrival, the way was prepared—the path made straight for Shakespeare.

The Marliad--An Epic Essay in Verse

To all you "Shakespeare" fans out there I say:
The Stratford actor never wrote a play,
Oh no. Kit Marley (known as "Marlowe") wrote
Four centuries ago, the words we quote
From Hero and Leander, Lucan's First Book
(Translated from the Latin)--Have a look
At Ovid, too, and Venus & Adonis,
Rape of Lucrece, The Shrew, Merchant of Venice,
Romeo and Juliet, Coriolanus,
King Lear, the famous tragedy of Hamlet
Six King Henry plays, Richard 3 and 2,
The Tempest, As You Like It, Much Ado,
Macbeth, King John, the dark tale of Othello--
In brief, most lines in the Folio
Of 'Shakespeare' plays and scores of Sonnets, too,
And other famous verses you may know:
Whoever loved, that loved not at first sight?
Have you ever heard this saw of might?
It's one of many Christopher did write.

Now I invoke Calliope, the muse
Of poetry for potent words to use,
And phrases fresh (like water clear and cold),
Plus a plot that's straightforward and bold,
To tell "the second greatest story ever told."
So, listen up, if you have ears to hear--
Kit Marley used the pseudonym "Shake-speare,"
And William Shakspere's name procured a share,

Brief Life
Sudden & fearful end
Original Marlowe Lives! blog
Marlovian Newsletter
The 'Shakespeare' Hoax
Organizations, Publications

Marlowe Lives --on Twitter!


For the latest on the Marlowe=
Shakespeare scene visit the Marlowe-Shakespeare Connection
blog, or the Marlowe Society (England) or the new Marlowe Lives! blog of all the latest news about our hero around the world.